(This is taken from one of my favorite posts of all time. I posted it way back in the day when no one but family & close friends were reading and I thought I would revisit it for you.)
I have noticed that my friends/family freakishly resemble the cast of Rudolph the Red Nosed Reindeer….Take no offense here…just laugh. I did.
Brian as "Herbie the Misfit Elf"

ME as "Whiner, Redhead, Misfit Doll"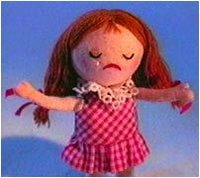 Bridgy as "Hot Reindeer Clarisse"


Michelle as "Bumble with retarded star"


And last…the misfit Jelly Squirt Gun reminds me of my brother, Rhett…I'm not really sure why.

I'm going to see if I can brush up on my reindeer games and get the hell off of misfit island. I'll catch y'all later.