It's that time of year, folks! Dr. Suess's Birthday and READ ACROSS AMERICA!!!!!!!!!!!!!!!!!!!!!
Always a big deal for my children's librarian friend, Karen.
She said this year's party was the best ever!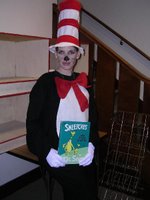 This was me exactly one year ago.
Hot outfit, no?
Karen asked me to come and read "Sneeches" to her kids at the library. Somehow the word spread and I ended up reading about 5 times that day. I also had a friend miscarry that day. I felt so bad for her and had no idea what to do. I wanted to make SOME acknowledgment, but wasn't sure what would be ok. So, after all my readings and apperances were done, I got in my car, drove 60 miles to her house and read her her favorite Dr. Suess as a bedtime story. Weird, I know. I think she liked it, though. I can't believe that a year has passed.
I had so much fun I thought I'd share.
Me @ Smithfield Library


Our event @ Thomas Edison. I thought we would get about 100 people. Try 700. PANIC. There were so many people you. couldn't. move. anywhere!I never did send that Thank You note to Pizza Hut for saving my pathetic feline ass.

Turned out brilliant.
They aren't doing it this year. Guess the 3rd President this year couldn't hack it. Selfish moment of HA!